Improving Business in the Wilmington Region
$8 Million Spec Building in Development at Pender Commerce Park
Plans are well underway by Pender Commerce Partners 1 LLC to build an $8 million, 126,360-sq-ft. speculative building at Pender Commerce Park. Based in Winston-Salem, the company consists of Ramm Capital Partners LLC and Taylor Development Group LLC. Groundbreaking occurred in February on the 15-acre property, and the project is on track for completion as anticipated during the 3rd quarter, according to Chris Ramm, chief operations officer at Taylor Development Group.

"Our project on Lot 2 at Pender Commerce Park is going great," Ramm says. "Our development team, Landmark Builders and Thompson Corder are doing a fantastic job moving the project forward and keeping us on schedule." Better still, he and his partners are already having early-stage discussions with prospects. "The COVID debacle initially paused these discussions, however, within the past 10 days they appear to be getting back on track," Ramm says.

The company's plans fit neatly into a broader regional strategy for economic diversification advocated by Wilmington Business Development (WBD) and its Pender County partners, whose vision for Pender Commerce Park from the beginning was a location that could appeal to food processing, assembly, distribution, headquarters an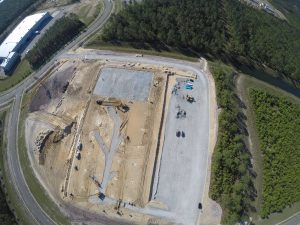 d other corporate operations. The spec building will balance rapid rampup with customizability for new company facilities.  "Class-A industrial product of this scale is essential to our recruitment efforts," says Scott Satterfield, WBD's chief executive officer. "State-of-the-art spec space will help us attract national attention from high-octane companies that want a world-class environment – and are ready to move immediately," Satterfield says.

Wilmington's Cape Fear Commercial is partnering with Ramm in marketing and managing the property. Will Leonard, senior vice president at Cape Fear Commercial, believes the marketplace will respond eagerly to the availability of such a property. "We maintain relationships with large brokerage firms around the country, and we're gearing those contacts up," he says. Founded in 2001, Cape Fear Commercial is a regional leader in Southeastern North Carolina commercial real estate. Paul Loukas, broker-in-charge at the company, expects the new building could move the needle on job creation efforts. "I think it could be a catalyst for economic development in the region," Loukas says.

Pender County officials see the spec building as additional evidence that the county's investment in the park continues to yield lucrative returns. "Today's businesses want to be able to move quickly on expansion plans, and this investment by Taylor Development Group will hasten the arrival of the county's next big industrial resident," says George Brown, chairman of the Pender County Board of Commissioners. "We're excited that a high-quality property developer shares our view that the right ingredients are in place to make Pender County an A-list destination for high-growth companies."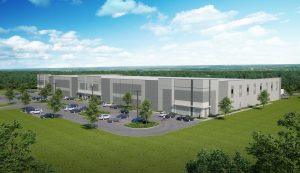 Ramm and his colleagues put a stake in the ground of the region's real estate market nearly four years ago with acquisitions of Class A office buildings at Landfall Park and Third and Grace in downtown Wilmington. After noticing a scarcity of available industrial space built to modern specifications, Ramm began working with Cape Fear Commercial on opportunities to build high-quality spec space. Pender Commerce Park fit the bill. "We spent a year researching the market and looked at sites all over the region," says Ramm. "We kept coming back to Pender Commerce Park."

Ramm says Pender Commerce Park's impressive infrastructure and regional connectivity have already been proven winners for major industries. "Acme Smoked Fish, Empire Distributors, FedEx, Coastal Beverage and Polyhose – all these are sophisticated tenants who had done their homework," he says. Another cause for Ramm's optimism is the quality service he and his partners have received from Wilmington Business Development. "Our marketing team, Cape Fear Commercial and Wilmington Business Development are doing a great job creating awareness and bringing new opportunities for us to explore," Ramm says. "These new opportunities are not only great for our project, but great for Pender Commerce Park and the region."