Improving Business in the Wilmington Region
Annual Meeting Celebrates WBD at 60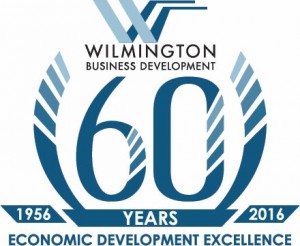 About 170 members, allies and special guests gathered on October 11th to celebrate the 60th anniversary of the founding of Wilmington Business Development. The event, held in conjunction with the organization's annual membership meeting, took place this year at the Louise Wells Cameron Art Museum.
"This year marks the 60th anniversary of the founding of this unique organization," said Chairman Dickson McLean. "We decided to organize this year's meeting in a slightly different format than what we're used to."
The organization's staying power is a credit to the commitment of Greater Wilmington's business leadership, CEO Scott Satterfield told the gathering. Through the years WBD has stayed focused on the fundamental objectives like diversification, service and quality programming. "Economic development fads come and go," he said. "But I'm proud to say WBD never deviated from its core purpose, which is recruiting businesses and supporting their success once here."
Wilmington's impressive track record in recruiting quality companies comes down to WBD's focus on keeping the region's economic assets up to date. "We're about making sure we have got the best infrastructure and the highest-quality product," Satterfield said. The organization's impact is also a result of its dedication to collaboration. "We're about building beneficial relationships with our allies and partners at the local, state, regional and federal levels."
Bill Cameron recalled how his father, Dan, worked with other business leaders to shape WBD – the "Committee of 100," as it was then called – into a results-oriented economic development organization that other communities would soon seek to replicate. "In those days, there weren't a lot of fancy restaurants in Wilmington," Cameron said. "Back then, entertaining clients and out-of-town guests usually meant backyard fish fries at our house."
In watching the organization take root, the younger Cameron – then a boy – received a valuable education. "I learned a lot from these experiences – mainly, that economic development is a people business," he said. "And while the world has changed, Wilmington has changed, the economy has changed, and industries have come and gone, that fact remains true."
This year's annual meeting included presentation of two awards. (See related stories nearby.) Bob Trapp announced that Chelsea Ash, a high school science teacher in Pender County, was the 2016 winner of the Corning-WBD Award for Excellence in STEM Education. The award has been presented annually since 2013. CEO Scott Satterfield presented WBD's first-ever Ally of the Year Award to Four County Electric Membership Corporation. Jimmy Smith, director of economic and community development at Four County, accepted the award on the company's behalf.