Improving Business in the Wilmington Region
6707 NETHERLANDS DRIVE
Property Description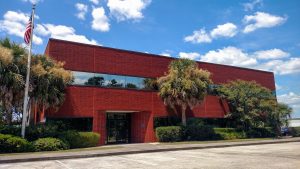 This Single Tenant Building is available For Lease and located at 6707 Netherlands Drive in popular Dutch Square. This light manufacturing, distribution, and logistical warehouse was formerly the home of Atlantic Shores Distribution. The property is located within the city limits of Wilmington in between Market Street and Gordon Rd. The building is 34,800 SF and features approximately 3,600 SF of office and 31,200 SF of warehouse.
Additional features of the building include:
• 3,600 +/- SF of ground floor office space.
• 3,600 +/- SF mezzanine warehouse storage or future office space (this space is not included in the total rentable square footage).
• 14,850 +/- SF warehouse storage
• 2,250 +/- SF cooler storage (this square footage is not included in the rentable square footage)
• 8,100 +/- SF of annex storage.
• 8,350 +/- SF drive-thru bay with two 14′ x 14′ drive-in doors on the front side.
• Ceiling Heights range from 20ft – 25ft within the warehouse areas.
• On the front facing side of the building there is one 14′ x 18′ drive-in and one 10′ x 10′ drive-in door on the rear of the building.
• Approximately 33 paved parking spaces and approximately 15 graveled parking spaces at the street.
• A recessed truck ramp with (2) covered docks, both with levelers and a single 10' x 10 drive-in door.
• The rear of the building is completely fenced to allow for 65′ tractor-trailer turn around, additional parking, storage and/or lay-down yard.
• A 200 Panel Solar Array with an average production of approximately 7,500kW per month.
• Primary Electrical is 3 phase with 800 amp 208 volt service.
About the Area

Located in the Dutch Square, an industrial / business park.
Specifications

Square Feet: 34,800
In City Limits: Yes
Acreage: 3.089
Year Built: 1994
Dock High Doors: 2
Drive-In Doors: 5
Parking Spaces: +/- 50
Utilities

Electrical Service: Duke Energy Progress
Water Service: CFPUA
Waste Water Service: CFPUA
Telecom Service: AT&T
Sprinkler System: No
More Details

Status:

available

Address: 6707 Netherlands Dr.
City: Wilmington
County: New Hanover County
Square Feet: 34,800
Acres: 3.089
Price: NA
Former Use: Beverage Distributor
Zoning: I-2
Lease: $7.50
Lease Terms: NNN
Category:

manufacturing-warehouse
Access

Closest Hwy/Interstate: Hwy 17 / I-40
Miles to Hwy/Interstate: .3 miles / 2.5 miles
Access Road: Netherlands Dr.
Rail Service: No
Closest Airports: Wilmington International Airport