Improving Business in the Wilmington Region
Chelsea Ash Receives Corning-WBD STEM Teaching Award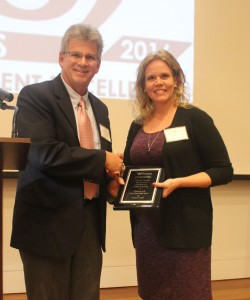 Chelsea Ash, a science teacher at Heidi Trask High School in Pender County, is the winner of the Corning-WBD Award for Excellence in STEM Teaching for 2016. Bob Trapp, Engineering Standards Manager at Corning Incorporated, presented the award at WBD's annual membership meeting on October 11th.
"In the classroom, [Ash] uses history and literature to illustrate the impact that STEM has in the real world," said Trapp. "Laboratories that teach half-life by demonstrating how short the half-life of M&Ms are help students understand concepts in a fun and engaging way while demonstrating the importance of core subjects when choosing to pursue a STEM career. She is teaching her students life skills as well as science," Trapp said.
A graduate of UNC Wilmington, Ash is a dedicated educator who goes above and beyond conventional expectations for her students. She also coaches the Science Olympiad, a program she helped initiate in 2009, and is an advisor to student government at Heidi Trask High. Ash has also shared her methods with other teachers hoping to sharpen their effectiveness. In January 2016, for example, she co-presented a paper entitled "Writing and Literacy in the STEM Classroom" at a statewide STEM teaching conference.
"Each year since 2013, WBD has joined Corning in recognizing an outstanding K-12 teacher of the STEM subjects – science, technology, engineering and math," explained Scott Satterfield, chief executive officer at WBD. "The company came to us with this idea, and it has really been a winner."