Improving Business in the Wilmington Region
Corning/WBD STEM Educator of the Year Award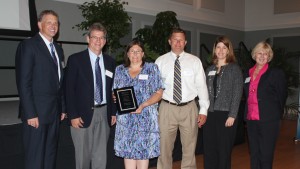 Michelle Hafey, who teaches 7th and 8th grade science at Penderlea School, has been named the Corning/WBD STEM Educator of the Year for 2014. Executives at Corning presented the award at last month's annual membership meeting of Wilmington Business Development (WBD). "Michelle's excellence in STEM teaching will ensure our students are ready to succeed in strengthening America's role as the world's engine of scientific discovery and innovation," said Bob Trapp, a senior Corning engineer who spoke at the meeting.
Hafey, who is certified to teach both science and math, joined the faculty of Penderlea in the 1995-96 school year. For the past decade, she has coached the Division B Science Olympiad at Penderlea. Each year, she takes two teams to the Wilmington Regional Science Olympiad Tournament at UNCW. "In order to create this interest for science programs within her school, Ms. Hafey started a program called Science Saturday four years ago," says Alissa Lee, STEM coordinator for Pender County Public Schools, who nominated Hafey for the honor. "She brings students, parents and teachers together for a day of science and engineering activities."
"For me it was an honor to be recognized," says Hafey, who also holds a bachelors degree in business. "Science has always been a love of mind." She says her methods strive to tie scientific concepts together with engineering, technology and math. Her approach works well in a rural community like Penderlea, giving her a better chance to develop relationships with the parents and siblings of her students. "I wanted to spend more time working with children and families," she says. The practical nature of her teaching accounts for her success in sparking and maintaining the curiosity of her young learners. "The fact it's hands-on and relevant explains why I get a high level of interest," Hafey says.
This is the second year Corning has co-sponsored the STEM Educator of the Year award with WBD. "Corning is an innovation company," Trapp says. "We are very much focused on using science, technology, engineering and math to create new products that solve real world problems, and to improve the products we have."
Corning and WBD are longtime partners. The organization was key to recruiting the New York-based company to Wilmington in 1979, when it opened what the world's first optical fiber manufacturing plant. The company's 66-acre site in the Port City remains the largest fiber production facility in the world.