Improving Business in the Wilmington Region
Empire Distributors Breaks Ground at Pender Commerce Park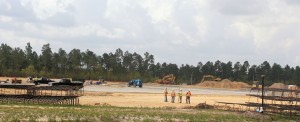 Empire Distributors of North Carolina broke ground on its approximately 175,000-sq.-ft. distribution facility in March, setting the stage for a state-of-the-art facility that will be operating later this year.
"We want to be in the building by October and operational soon thereafter," says Jay McGrady, plant manager for Empire Distributors, which distributes beer, wine and other beverages across the region. A unit of McLane Company, Inc., Empire closed on the acquisition of 18 acres at Pender Commerce Park in late 2015. "We've been moving pretty quickly," McGrady says.
The new facility will feature technology-driven conveying, safety and inventory management systems. Empire will add about 30 employees to its existing 70-person workforce in Wilmington.
Opened in 2011, Pender Commerce Park is a full-service, ready-to-build industrial park stretching across 450 acres. Empire joins Acme Smoked Fish, the 1st business to locate in the park as a resident, which resulted from a partnership between Pender County and WBD. Brooklyn, N.Y.-based Acme arrived in 2013 and now operates a $30 million, 138-worker production site there.