Improving Business in the Wilmington Region
TIM MILAM NAMED 2019 CAMERON MANAGEMENT ALLY OF THE YEAR
Tim Milam Receives Top Honors at WBD's Annual Meeting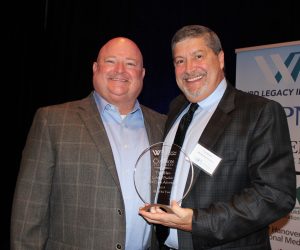 October 11, 2019 (Wilmington, N.C.)
Tim Milam, President of Coldwell Banker Sea Coast Advantage is the winner of the Cameron Management Ally of the Year Award for 2019. The honor was presented Tuesday night at the Annual Meeting of Wilmington Business Development, which sponsors the award. Sea Coast is among the state's largest residential real estate businesses, employing hundreds of agents and support staff across numerous offices in Southeastern North Carolina.
WBD Vice Chair Sabrina Sells announced the award to a standing room only audience at Cape Fear Country Club, calling Sea Coast President Tim Milam "a forward-thinking business leader who understands that when an organization like WBD succeeds, the region succeeds — and everyone shares in its benefits, including companies like his." The company's values align closely with those of WBD, she added. "Tim understands and appreciates WBD's unique status as a member-driven, member-focused economic development organization – and that there's no substitute for results. He is a champion of Greater Wilmington and the potential our region holds as a leading international destination for companies, jobs, investment and people," Sells said.
Among his regional leadership roles Milam has served on WBD's board of directors since 2018. He has led Sea Coast Advantage since 1997. A West Virginia native, Milam graduated from the University of Charleston, where he played baseball and majored in computer science. He and his wife, Vicki, have two children. In accepting the award on behalf of his company, Milam said support for economic development by the private sector brings measurable benefit. "The business community invests and participates in WBD's work because it helps keep the economy growing, and that means our companies can be more successful," he said. "I encourage Wilmington's business leaders to continue their commitment to this valuable organization and its work."
WBD CEO Scott Satterfield said Milam's generosity sets apart his leadership style. "In any community, there are going to be net givers and net takers," Satterfield said. "I know I don't need to tell anyone which category Tim falls into — because there isn't really anyone more giving of their time, energy and reputation for the cause of economic development in Greater Wilmington than him."
The Cameron Management Ally of the Year Award is named in honor of two key founders of WBD, Dan and Bruce Cameron. Initiated in 2016, the award seeks to highlight the highly collaborative nature of successful economic development strategies and programs. Previous honorees include Four County EMC, Verizon Wireless and Cape Fear Community College.
Wilmington Business Development oversees business recruitment and industrial retention for the City of Wilmington, New Hanover County and Pender County. A private, non-profit organization founded in 1956, WBD supports members, partners and allies through an array of technical expertise, leadership resources and value-added business services. Visit www.wilmingtonbusinessdevelopment.com to learn more.