Improving Business in the Wilmington Region
WBD Hosts Location Advisers During Wells Fargo Championship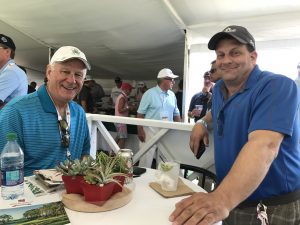 David Schrock, a Dallas-based site selection consultant, is not much of a golfer. But when he received an invitation to travel to Wilmington and attend the Wells Fargo Championship, he couldn't pass up the offer. "I had been to North Carolina before, but never Wilmington," says Schrock, who is senior director of NAI Global's site selection practice.
Schrock spent three days at the Eagle Point event, where WBD had a hospitality tent that served as an oasis for invited guests, allies, business leaders and local elected officials. "I thought it was beneficial to meet with local economic development partners and business owners and learn more about the opportunities that exist there for clients," Schrock says.
At NAI, Schrock analyzes commercial real estate markets, performs site assessments and due diligence, oversees project management and negotiates on behalf of the firm's clients. His work takes him throughout North America. "I just wanted the opportunity to see Wilmington," says Schrock, who is already anticipating a return here next year when WBD organizes another "Fam Tour" for national location advisors.
Tim Feemster, managing principal at Foremost Quality Logistics, participated in the region's 2015 Fam Tour and looked forward to returning to Wilmington when the invitation came to attend the Wells Fargo Championship. "I like to go back to the same communities and see the changes that take place so that when clients ask I'll be on top of it," says Feemster, who was one of two FQL consultants attending the event.
A specialist in logistics and supply-chain projects, Feemster says he found value in meeting with officials from the Port of Wilmington and regional utilities. He also had a chance to chat with local elected officials. "I like to get a feel for the political climate," Feemster says. A 35-year veteran of the location advisory business, he appreciates good networking opportunities. "At events like that, you get to interact with people and make new contacts," Feemster says. "In the end, this is a relationship game over time."