Improving Business in the Wilmington Region
WBD Welcomes New Board Members, Officers
History was made on June 26th when WBD's board of directors met to choose its leaders for 2020-2021. Sabrina Sells, a Wilmington banker and longtime economic development advocate, was elected the organization's first-ever female chair. Fred Samz, third party services manager of Celanese is now vice chair, Tim Milam, head of Coldwell Banke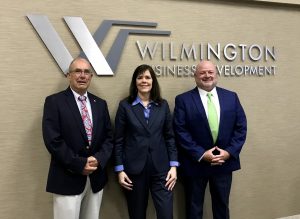 r Sea Coast Advantage is treasurer and WBD CEO Scott Satterfield will serve as secretary.
"The organization could not be in better hands," said past chair Bill Cherry of the new class of officers and directors. "Sabrina brings considerable leadership experience, unique technical expertise and an unparalleled commitment to WBD, which will benefit both the organization and the region as we move into a new era."
Joining the board for three-year terms are Wilma Daniels and Jeff Rooks.  Daniels is founder and CEO of Daniels Development Company, LLC, a real estate firm that develops housing for low-medium income families. She has a long record of community service, with terms on the UNCW Board of Trustees (eleven years, two as chair), Cape Fear Community College Foundation Board, YWCA and many others. Rooks, a seasoned WBD member and supporter, is with Rooks Farm Service in Burgaw. The family owned firm, founded in 1972, provides services to farmers and agricultural operations across eastern North Carolina. His father, Charles Rooks, once served on WBD's board.
A native of Richfield, NC, Sabrina Sells is a graduate of Appalachian State University, where she studied English and business. After working as a sportswriter, she began her banking career in Whiteville at United Carolina Bank. She moved to Wilmington with UCB in 1990 and got involved in WBD; the bank became BB&T in 1997. She is currently market president and senior vice president at North State Bank. Sells also is a published author of two mystery novels, with a third currently in the works. An avid hiker, she is the mother of two sons – Sam, age 23, and Carl, 20. Sells and her husband, Mike, an artist, were college sweethearts.
"WBD is an organization that moves the needle," says Sells. "Every major company here has WBD's fingerprints on it. I don't think there's a better bang for the buck in the state of North Carolina."
Sells is eager to build on the legacy of leaders like Bill King, Dickson McLean, Bill Cherry and others. "I take this work very seriously," she says. Among her goals are continued development of Pender Industrial Park and the Blue Clay Road industrial site. "I would like to see quality employers locating there."
CEO Scott Satterfield calls Sells a veteran WBD member and regional business leader who is familiar with every aspect of the organization's mission and operations. "Sabrina doesn't need a learning curve at all. She fully understands what WBD is all about and knows where she wants to take it," Satterfield says. "Greater Wilmington is lucky to have her on its team, and WBD is grateful to have her heading up ours."