Improving Business in the Wilmington Region
WBD Welcomes New Board Members, Officers
Wilmington Business Development (WBD) recently confirmed new board members and officers for the fiscal year.
Nominated and approved at the June 26, 2020 board of directors meeting as officers for the 2020/21 fiscal year were:  Sabrina Sells as Chair, Fred Samz as Vice Chair, Tim Milam as Treasurer and Scott Satterfield as Secretary.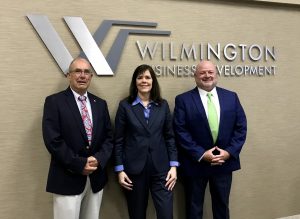 It was a historic day for WBD as Sabrina Sells, Market President and Senior Vice President of North State Bank, is WBD's first female Chair. "I am fully aware of the responsibilities and the importance as the Chair of this incredible organization.  My appreciation for what WBD does for our region is immeasurable and I am elated to continue to serve with such a dedicated and professional team," said WBD Chair, Sabrina Sells.
Current board members Michael McWhorter and Lauren Henderson were confirmed to serve second 3-year terms.
Rotating off the board were Jack Barto and Bill Cherry.  Jack Barto had completed two 3-year terms of service.  Bill Cherry completed two 3-year terms of service and served on the WBD executive committee for six years including two years as Chair.
"My years of board service with WBD have been immensely fulfilling.  I have been privileged to witness firsthand the incredible work that WBD performs on a daily basis.  Moving forward, this organization is in great hands and I am confident that it will continue to lead our region with laser focus and relentless work ethic," said Bill Cherry.
"It is not possible to overstate the benefit to WBD of Mr. Cherry's time, resources and leadership,"  said Scott Satterfield, CEO of WBD. "We are sincerely grateful to Bill Cherry as he has positioned us nicely for the future.  We know he will remain a trusted partner and friend."
Filling the two vacant positions will be Wilma Daniels of Daniels Tours LLC in Wilmington and Jeff Rooks of Rooks Farm Service in Burgaw.  Each were approved for three-year terms on the WBD board.  WBD is excited to have Wilma and Jeff on its team.