Improving Business in the Wilmington Region
Big Biz Parks Lure Tenants
BY JOHANNA F. STILL, POSTED AUG 4, 2023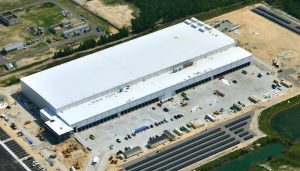 GWBJ
A $100 million facility in the Pender Commerce Park developed by RL Cold will soon be operated by Performance Team, a Maersk company. (Photo c/o Maersk)
Even with rising interest rates, which have inflated costs for renters and builders alike, the appetite for large industrial warehouse space in the Cape Fear region is holding steady.
On the heels of fully leasing his first speculatively built industrial warehouse in the Pender Commerce Park, Chris Ramm, of Ramm Captial Partners, is nearing completion of another facility.
The second 144,900-square-foot building is already 85% leased to two tenants, including a Fortune 100 company that Ramm said he couldn't yet disclose. The building was expected to be completed by the end of July, he said in a July 10 interview.
Atlantic Tire Distributors, Professional Builders Supply and Superior Pool Products are leasing space in his first 127,000-square-foot building, which opened in 2020.
"The Wilmington market has been underserved, and the industrial market in the Southeast is just on fire to begin with," Ramm said. "So it made a lot of sense."
The Pender Commerce Park, assembled and prepared by Pender County, welcomed its first business, Acme Smoked Fish, in 2015.
"It was a little ahead of its time when they did it," Ramm said of the park. "The county did a fantastic job laying the park out. And with the industrial explosion over the last three or four or five years, it just made doing business that much easier to get going because the infrastructure was there."
Another large-scale industrial structure in the park is set to soon open next door: RL Cold's $100-million cold storage facility. Performance Team, a Maersk company, will operate RL Cold's new building which was constructed speculatively to cater to a growing demand for refrigerated storage. Perishable goods will be funneled through the Port of Wilmington, which has undergone major infrastructure upgrades in recent years.
A Maersk spokesperson said on June 23 the facility would be operable by the fourth quarter of the year.
Although Amazon appears to have scrapped plans for a 1,000-job distribution center in the Pender Commerce Park, the firm said through a spokesperson it still intends to build its smaller-scale project, a delivery station that will create 100 full-time positions. The spokesperson confirmed there is still no timeline on when that project will be completed. Amazon purchased 54 acres in the park in March 2022 and had originally said it would complete the delivery station by 2023.
Across the highway on U.S. 421, construction is underway to open the second phase of the Wilmington Trade Center, a speculatively developed project led by Edgewater Ventures. Coastal Carrier and PaperFoam leased the first 157,600-square-foot building, which opened in early 2022. Interest is strong in the second nearly identical building, which is approaching completion, according to Wilmington Business Development CEO Scott Satterfield.
Meanwhile, developers are moving ahead with plans to expand another recently leased and speculatively developed project in Brunswick County.
The International Commerce Center will expand by 285,020 square feet, Cameron Management announced in July. Connected to the original 150,000-square-foot building that was completed last summer, the expansion will be completed in the second quarter of 2024, according to Bryan Greene, a commercial real estate broker at Cameron Management.
The initial building was fully leased before it was finished. It holds Precision Swiss Products, Lowe's Companies and Tri-Tech Forensics; Tri-Tech Forensics will lease an additional 50,000 square feet in the expanded portion of the building.
Historically, a lack of readily available industrial sites and space has been a barrier in the Wilmington region, according to Satterfield. But the arrival of speculatively developed projects delivered by Ramm, Edgewater Ventures and Cameron Management, as well as recent infrastructure progress on sites owned by New Hanover County, has turned a previous limitation into a newfound strength.
Deals are being hashed out to sell space in New Hanover County's Blue Clay Business Park. The 120-acre business park hasn't yet officially secured its first tenants, but several contracts are in the works. In the spring, the county entered into contracts with Francini Marble & Granite, Coastal Millwork Supply Co. and FFT Cabinetry – companies with a local presence that aim to use the land to construct new and expanded facilities. The park's remaining 40 buildable acres could be sold as a unit or parceled out, Satterfield said.
All three contracts are in the due diligence period, according to county spokesperson Alex Riley, and are contingent on infrastructure being completed at the site.
Infrastructure plans are behind schedule. Getting lines in the ground is "imperative to future recruitment efforts at the site," Satterfield said.
The infrastructure installation was rebid because the initial solicitation lured over-budget proposals, Riley said. The county later clarified the project's scope and awarded a $7 million contract to Wells Brothers Construction in May to include the installation of stormwater, water distribution, roadways and sewer at the park, Riley said. Work should be completed by March 2024, he said.
Modeled after the success of the Pender Commerce Park, New Hanover County is also financing plans to bring infrastructure to yet another business park planned off Holly Shelter Road. It will cost New Hanover County more than $8 million to bring water and sewer to this site, which was donated by an entity managed by Cameron Management, contingent on utilities being installed by June 2026. Cape Fear Public Utility Authority will install the infrastructure, which is in the design phase, according to a utility spokesperson, and the project will be put out to bid in May 2024.
As the Blue Clay Business Park fills, Satterfield said WBD will shift its focus to marketing the Holly Shelter Business Park, which represents the next 10 to 20 years of industrial development in the county.
"We are excited about the progress at Blue Clay Business Park and really, when you take a step back and look at it, the momentum in the market in its entirety," Satterfield said in an email. "We are seeing commitments on industrial buildings of scale before they have walls (Chris Ramm in the Pender Commerce Park), and we are in the process of selling land before you can flush toilets (multiple projects in due diligence at Blue Clay Business Park). This is a testament to the ongoing demand right now in Greater Wilmington."
As he waits to book the last 15% of space in his second build, Ramm said he's on the lookout for a site to build a third. Success in the sector has been bolstered by overall growth in the region, Satterfield said, from record-breaking passenger growth at the airport to infrastructure investments at the port to expanded educational offerings.
"Our story," he said, "is as good as it has ever been."