Improving Business in the Wilmington Region
Blue Clay Road Site Selected for Duke Energy Site Readiness Program
An undeveloped 120-acre property owned by New Hanover County is set to benefit from participation in Duke Energy's Site Readiness Program. The Blue Clay Road site is about 4.5 miles from I-40, adjacent to a CSX rail line and within easy access to both Wilmington International Airport and the Port of Wilmington. The property is one of five in North Carolina selected for the program this year.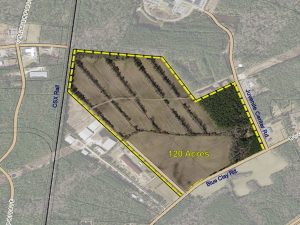 "Identifying and improving sites for future economic growth is a critical part of every successful economic development strategy," says Jeannette Goldsmith, vice president of SDG, a site selection firm based in Greenville, S.C., engaged by Duke Energy to conduct the evaluation. Since its launch in 2005, Duke's Site Readiness Program has helped prepare properties that have brought more than 5,100 new jobs and nearly $6.1 billion in capital investment to North Carolina. Pender Commerce Park took part in the program in 2013.
Duke's Site Readiness Program amounts to a dress rehearsal for sites to undertake in Requests for Information (RFIs) by national location consultants such as Goldsmith. An additional benefit: consultants become familiar with participating sites and can readily offer them as options to clients.
Once fully built out, the Blue Clay Road site could support up to 800,000 square-feet of industrial space. Full infrastructure is expected to be complete this year.