Improving Business in the Wilmington Region
INDIA'S POLYHOSE WILL INVEST NEARLY $8 MILLION AT PENDER COMMERCE PARK, CREATE 51 JOBS
Global Provider of Industrial Hoses and Fittings Will Establish its First North American Logistics Outpost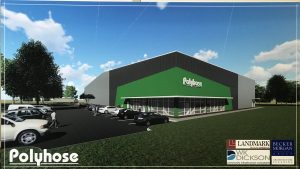 November 26, 2019 (Elizabethtown, N.C. and Wilmington, N.C.) – Polyhose Inc., the U.S. unit of Polyhose India Private Limited, plans to establish its first North American industrial facility at Pender Commerce Park. Its initial Phase One plan is for a 40,000-sq.-ft. build-to-suit assembly and logistics space that will employ 51 workers. Officials of the company and its parent, which is based in Chennai, India, joined Governor Roy Cooper today to announce the decision.
"Pender County is ready to grow, and international companies like Polyhose know North Carolina's strong workforce is the right way to put their strategy to work," said Governor Cooper.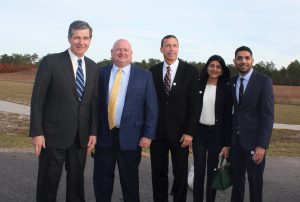 Pender County Commission Chairman George Brown led a delegation of local officials at the Pender Commerce Park announcement, "With the arrival of Polyhose, this prime piece of corporate property takes a major step into the international realm, proving that Pender Commerce Park has truly become a global business destination," said Brown. "Pender County continues to get a great return on the bold investment it made over a decade ago when we began piecing together the park and putting in infrastructure."
Acme Smoked Fish was the park's first tenant, opening a major East Coast food processing facility in 2014. Acme's move brought with it industrial-quality power, water, sewer and telecommunications for the entire 350-acre park. It quickly drew attention from logistics and distribution operations, attracting Empire Distributors, FedEx Freight and Coastal Beverage in quick succession since late 2015. The property sits off U.S. Highway 421, only a few miles north of the City of Wilmington, drawing workers from a five-county area that extends as far as Bladen and Columbus Counties. With the addition of Polyhose, the park will be home to over 600 jobs and nearly half a million square-feet under roof.
"Pender Commerce Park has been a game-changer not just for Pender County, but our entire region," said Scott Satterfield, CEO of Wilmington Business Development (WBD), which works closely with Pender County leaders in developing and promoting the park. "It has exceeded the very high expectations we set back in the mid-2000s when the vision for this property first came into view."
Polyhose was established in 1996 in Chennai, India's fourth largest city. It currently maintains about a million square-feet of manufacturing and warehouse space in India, and its 1,800-person workforce stretches across operations in Europe, Africa and Asia. The company's U.S. presence is currently managed from Edison, N.J. Polyhose's industrial equipment supplies major manufacturers like Caterpillar, Wagner and Graco.
"North Carolina is a great state for business," said Jonathan Pressler, senior vice president at Polyhose, which selected Pender County after a national site search. The region's workforce and multi-modal transportation assets factored into the company's choice. So too did Greater Wilmington's livability. "There's a good quality of life here that can attract employees," Pressler said. "Pender Commerce Park at the same time is well-thought-out with infrastructure already in place."
The company envisions its Pender County presence taking shape over two phases. The first will involve 40,000 square-feet of space for logistics, assembly and distribution. A second phase will expand the facility to 100,000 square-feet. "It's a good location to build and expand," Pressler said. The company intends to utilize the Port of Wilmington for importing its components.
Pressler and his Polyhose colleagues learned about Pender Commerce Park through a contact it made with officials of North Carolina's Southeast at an industry trade event in 2018. NC Southeast officials compiled a list of Southeastern North Carolina locations that fit the company's criteria, with Pender Commerce Park among suggested sites. "The good work of North Carolina's Southeast and Wilmington Business Development led us to Greater Wilmington," Pressler said. The two groups worked with partners at the North Carolina Department of Commerce and the Economic Development Partnership of North Carolina (EDPNC) to bring the company to the state.
Steve Yost, president and CEO of NC Southeast, says efforts to assist Polyhose – known as "Project Cheddar" – pulled together several elements of his organization's strategy. "We launched an FDI initiative several years ago and began targeting select trade shows across the country," Yost says. The 18 counties comprising the Southeast are home to a long list of foreign companies, especially manufacturers. "We have the assets global businesses look for, including connected communities that are welcoming to people from around the world."
The project also marks a win for the Southeast's micro-region strategy. In recent years, the partnership has joined with WBD, Brunswick Business & Industry Development and the Columbus County Economic Development Commission in promoting the four counties surrounding Wilmington. "All of our strategies center on collaboration with our state and local partners, and Project Cheddar was an ideal opportunity to showcase our winning regional model," Yost said.
"The lead generation efforts of North Carolina's Southeast, coupled with Wilmington Business Development's tireless engagement and commitment to satisfying our specific needs, has proven to be a winning combination for us," Pressler says.
Founded in 1956, Wilmington Business Development oversees business recruitment and industrial retention for the City of Wilmington, New Hanover County and Pender County. A private, non-profit organization, WBD supports members, partners and allies through an array of technical expertise, leadership resources and value-added business services. For additional information, visit www.wilmingtonbusinessdevelopment.com
A public-private partnership headquartered in Elizabethtown, N.C., North Carolina's Southeast links business leaders with county governments in seeking to "provide strong economic development leadership in southeastern North Carolina through innovative marketing and collaborative regional initiatives that will support the creation of new jobs, generate capital investment and secure new business locations." Member counties include Anson, Bladen, Brunswick, Columbus, Craven, Cumberland, Duplin, Hoke, Lenoir, Montgomery, New Hanover, Moore, Onslow, Pender, Robeson, Sampson, Scotland and Wayne. For additional information, visit www.ncse.org