Improving Business in the Wilmington Region
Coastal Beverage Finalizes New Home at Pender Commerce Park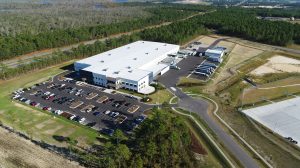 Coastal Beverage Company has completed its move to Pender Commerce Park. The company, a leading distributor of wine, beer and other beverages, announced its selection of a 27.7 parcel there in February 2018. Its $10 million facility serves as its company headquarters and distribution center.
The building's amenities include a hospitality suite and employee fitness center. Governor Roy Cooper and other dignitaries toured Coastal Beverage's 162,000-sq.-ft. facility in November after announcing the arrival of Polyhose.
Founded in 1960, Coastal Beverage began with a six-county service area. Three generations later, the family-owned business now serves retailers in 38 counties and more than 5,000 customers. It works with leading brands such as MillerCoors, Constellation, Yuengling, Pabst and Heineken. Since 1976, Coastal had operated out of a smaller facility on Harley Road.
The company's site search began in 2017, eventually leading to Pender Commerce Park, where it became the Park's fourth tenant. Coastal, which employs about 220 workers in Wilmington, began operating at its new site in September of last year. It also operates facilities in Elizabeth City and Farmville.
"Pender Commerce Park has proven its mettle as a prime destination for logistics and distribution operations," said Scott Satterfield, CEO of Wilmington Business Development (WBD). "Coastal Beverage's impressive new presence there also shows the world the park is also the ideal backdrop for corporate headquarters, which makes it a driver for Greater Wilmington's economic diversification."
WBD worked with Cape Fear Commercial in supporting Coastal Beverage Company's location search. Both companies are longtime WBD members.