Improving Business in the Wilmington Region
EDGEWATER VENTURES AND MCKINLEY BUILDING CORPORATION ANNOUNCE THE DEVELOPMENT OF BUILDING TWO AT WILMINGTON TRADE CENTER
WILMINGTON, N.C. (July 21, 2022) – Edgewater Ventures, in partnership with McKinley Building Corporation, announces the development of their second building at Wilmington Trade Center, following the recent completion of the 157,610 square foot Building 1. Construction is underway on Building 2, a virtually identical 157,610 square foot state-of-the-art facility that will feature tilt-up concrete construction with extensive glass lines, 32' clear height, an ESFR sprinkler system, and a 180' deep truck court. Building 2 is slated to deliver in Q2 2023 and will bring the total size of Wilmington Trade Center to 315,220 square feet.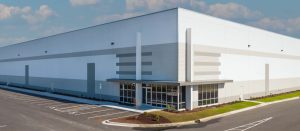 Wilmington Trade Center is the first ever speculative Class A industrial development constructed within New Hanover County and featuring a Wilmington address. The 425,000 square foot planned development is strategically positioned on Highway 421 near the interchange at interstate 140, providing direct, uninterrupted access to the entire Wilmington market as well as Interstate 40 to Raleigh, Interstate 74 to Charlotte, and Highway 17 to Myrtle Beach. Upon completion, the development will provide corporate tenants with outstanding access to Downtown Wilmington (4.2 miles), Wilmington International Airport (6.7 miles), and the Port of Wilmington (8.7 miles).
Wilmington Trade Center Building Two is Edgewater Ventures' second ground-up development in the Wilmington market and will add to the company's industrial portfolio in the area which will grow to approximately 1.5 million square feet.
Chris Norvell of Edgewater Ventures commented, "We're excited to start our second building at Wilmington Trade Center and capitalize on the momentum in the park with our recent leases to PaperFoam and Coastal Carrier."
No stranger to construction and development in the Wilmington region, McKinley Building Corporation has constructed and developed close to 1 million square feet of industrial facilities along the Highway 421 corridor, including eight (8) buildings within I-140 Business Park, located just south of Wilmington Trade Center.
"We at McKinley are excited to start on Building Two with Chris and his team and be part of bringing to New Hanover County another multi-facility complex that will continue to raise the bar for all southeastern North Carolina for supporting logistics and Port business," said Ken Dull, President of McKinley Building Corporation.
Edgewater Ventures and McKinley continue to build upon a long-standing relationship with regional economic development leader Wilmington Business Development (WBD). "Industrial momentum in this market, and on this corridor in particular, is incredibly strong," says Scott Satterfield, WBD CEO. "We clearly recognize the significance of this financial investment and the recruitment tool that it will be for the Greater Wilmington region. Our currency is jobs, tax base and investment and this development provides us with a high demand product."
Founded in 1956, Wilmington Business Development oversees business recruitment and industrial retention for the City of Wilmington, New Hanover County and Pender County. A private, non-profit organization, WBD supports members, partners and allies through an array of technical expertise, leadership resources and value-added business services. For additional information, visit www.wilmingtonbusinessdevelopment.com.
About Edgewater Ventures
Edgewater Ventures is a commercial real estate investment firm that is focused on the acquisition and development of industrial, office, multi-family and life sciences assets across the Carolinas. Our team members have dedicated their entire careers to the maximization of real estate value through the identification of opportunities and the first-class operation of assets for our clients and partners. With over 50 years of combined experience and years of working together, the Edgewater team brings a unique corporate culture and passion for the industry that has consistently translated into exceptional results. Founded in January of 2020, Edgewater currently owns and operates a portfolio of 3.7 million square feet of properties throughout the Carolinas. The firm has offices in Raleigh and Wilmington, North Carolina.
About McKinley Building Company
McKinley Building Corporation has operated in the Greater Southeastern area of North Carolina for thirty years and has earned a stellar reputation for dependable, quality construction on close to 400 projects across a wide variety of Commercial Buildings from Industrial Warehouse and Flex Spaces, to Class A Office Buildings, Retail Shopping Centers, Multifamily Projects, and Tenant Upfits. McKinely has earned this reputation by building on a strong foundation of Core Values: Integrity, Teamwork, Compassion & Service to Others. McKinley Building's greatest assets are its' people and the relationships they form with their clients, many of whom are repeat customers. From initial design through completion of a project, their customers enjoy a close partnership to ensure that the project is a success – finishing on time, on budget, and with the highest quality possible. Ensuring quality is their primary objective and quality, value, and attention to detail are the foundation of McKinley's business philosophy.