Improving Business in the Wilmington Region
Pender Commerce Park Becomes North Carolina's First "AT&T Fiber Ready" Property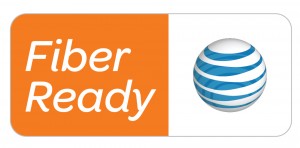 Like access to talent and supply chains, high-speed telecommunications is a basic ingredient for global business success. That's why Pender County leaders were proud to have one of their county's premiere industrial properties receive a first-of-its-kind designation for broadband readiness from one of the nation's leading telecommunications providers.
In October, AT&T Corporation designated Pender Commerce Park as "Fiber Ready," which offers potential corporate residents assurance that modern telecommunications infrastructure is available. The park was the first in North Carolina to receive the designation, which could help Pender County attract a diverse array of tenants.
Carlos Sanchez, AT&T's state director for external affairs in North Carolina, announced the honor at WBD's annual meeting on October 8th. He commended local leaders for their foresight in developing the 450-acre park, which is convenient to the global marketplace via land, sea, air or Internet. It is now home to Acme Smoke Fish's manufacturing plant and will soon also house operations for Empire Distributors of North Carolina. "Pender County Commissioners and staff had a vision for their park and have succeeded in bringing new companies and jobs there," said Sanchez.
David Williams, chairman of the Pender County Board of Commissioners, credits Wilmington Business Development, its economic development partner, for many of the good things happening at Pender Commerce Park. "It was WBD that put the opportunity in front of us and encouraged us," Williams said. "It's the best return we could ask for. I can't see a better way for us getting to market."