Improving Business in the Wilmington Region
WBD Exec Named One of NC's Top Business Leaders
Scott Satterfield has long been recognized as an influential mover and shaker in Wilmington. Earlier this year, Business North Carolina magazine recognized Wilmington Business Development's CEO for his impact as a statewide leader, listing him among its "Power 100."  The publication called Satterfield, who has led the organization since 1995, "the longstanding face of the region's primary economic-development group." It noted WBD's uniqueness as a privately-driven organization.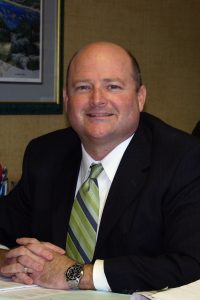 "Those of us in Greater Wilmington know how special WBD is and how special its CEO is," said Bill Cherry, chairman of Wilmington Business Development. "This recognition confirms that Scott is not just an economic developer but truly a North Carolina business leader."
The Charlotte-based monthly magazine, which has a readership of over 101,000, included several other Wilmington leaders on its list. PPD Founder Fred Eshelman, Live Oak Bank CEO Chip Mahan, and Paul Cozza, head of the NC State Ports Authority, also were named to Business North Carolina's Power 100. The list was published in the magazine's February issue.