Improving Business in the Wilmington Region
WBD Relationships Foster Regional Economic Growth
Despite the COVID-19 pandemic and other headwinds, Wilmington Business Development (WBD) and its members, allies and partners achieved significant results for the region in 2019-2020. WBD directly and indirectly influenced over $100 million in new capital investment and 635 jobs for southeastern North Carolina. Those efforts included announcements by Polyhose, Pender Commerce Partners and Pacon, expansions by Coastal Beverage and South-Tek Systems, and acquisitions of the Port Logistics Center and Cape Fear Industrial Complex.
Polyhose Inc., the U.S. unit of Polyhose India Private Limited, is establishing its first North American industrial facility at Pender Commerce Park. Phase one of the company's plan calls for 52,500 sq.-feet of build-to-suit assembly and logistics space that will employ around 50 workers. Governor Roy Cooper joined Polyhose executives, including officials of its Chennai, India parent company, in announcing the decision last November and site work is now underway. "The lead generation efforts of North Carolina's Southeast, coupled with Wilmington Business Development's tireless engagement and commitment to satisfying our specific needs, has proven to be a winning combination for us," said Jon Pressler, senior vice president at Polyhose.
As Polyhose was launching plans for Pender Commerce Park, Coastal Beverage Company was completing its regional location to a building just steps away. Three g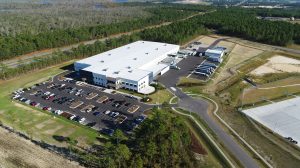 enerations after Coastal Beverage's 1960 founding the family-owned business now serves retailers in 38 counties and more than 5,000 customers. Governor Roy Cooper and other dignitaries toured the company's 162,000-sq.-ft. facility after announcing the Polyhose win. WBD worked with Cape Fear Commercial in supporting Coastal Beverage Company's location search. Both companies are longtime WBD members.
Also near completion at the Pender Commerce Park is construction of an $8 million, 127,356 sq.-ft. speculative facility by Pender Commerce Partners 1 LLC, a Winston-Salem-based company that consists of Ramm Capital Partners LLC and Taylor Development Group LLC. Groundbreaking on the 15-acre project occurred in February and the project will soon be complete. "Our marketing team, Cape Fear Commercial and Wilmington Business Development are doing a great job creating awareness and bringing new opportunities for us to explore," said Chris Ramm, Manager of Pender Commerce Partners 1 and COO of Taylor Development Group. "These new opportunities are not only great for our project, but great for Pender Commerce Park and the region." In addition, Pender Commerce Partners 1 LLC is now in the process of acquiring more land in the Pender Commerce Park to develop its second speculative industrial building there in two years.
Not far from Pender Commerce Park, Pacon Manufacturing Corp. moved into the former U.S. Marine site in Navassa. The New Jersey-based company is playing an important part in the fight against COVID-19, developing and manufacturing wipes, pads, towels and liquids for the consumer, industrial and medical care markets. WBD played a key role in attracting Pacon to the region and continues to support the company's growth.
Also along the increasingly dynamic U.S. Hwy 421 corridor was the 2019 relocation and expansion of South-Tek Systems. A leading designer and manufacturer of nitrogen generators with diversified worldwide customer base, South-Tek moved into an existing 66,000-sq.-ft. building as part of a growth strategy that includes additional hiring and new products. The company was founded in Wilmington in 1997. It remained privately held until its 2018 acquisition by Pfingsten Partners LLC, a Chicago-based private equity group. South-Tek began quietly considering a move to larger space three years ago. "At that time, there wasn't much space in Wilmington larger than 40,000 square-feet," recalled Alan Norman, the company's vice president of operations. With its acquisition by Pfingsten, South-Tek stepped up its site search with a call to WBD, which knew of an available industrial real estate market that fit the bill.  "Scott [Satterfield] connected us with the right agent and got the ball rolling," said Norman.
Acquisitions during 2019-2020 also grew the region's inventory of ready-to-go buildings. Raleigh-based Edgewater Ventures, a commercial real estate investment firm, announced in April its acquisition of a 240,000-sq.-ft. distribution facility on Landmark Drive in Wilmington. The company has been buying industrial real estate in Greater Wilmington for the past three years. In purchasing the Landmark Drive property, Edgewater Ventures was represented by The Cress Group of Coldwell Banker Commercial Sun Coast. Both firms are WBD members and partner with the organization to market available space. "As we've built out our portfolio of properties in the Greater Wilmington area, the WBD staff has been very proactive in helping us understand the dynamics of the market and identifying opportunities," said Edgewater's Chris Norvell, who calls WBD's customer service "best-in-class."
Elsewhere in the region Rocky Point Ventures LLC sold the Cape Fear Industrial Complex in Pender County in January for $8.3 million. Several tenants call the site home, including Fine Fixtures, a New York-based bathroom furnishings supplier recruited by WBD and its economic development partners in 2018. The buyer was Cape Fare Holding LLC, whose partners include Joseph Ostreicher, president of Fine Fixtures Inc. Environments Unlimited Commercial Real Estate LLC (EUCRE) served as listing agent for the property and facilitated the sale. Rocky Point Ventures and EUCRE are members and partners of WBD. "We look forward to working with WBD as we build on a long partnership in marketing the Cape Fear Industrial Complex," said Jeremy Phillips, broker-in-charge at EUCRE. "With industrial being the strongest of the commercial real estate sectors right now, we hope to have the remaining space leased out in the coming six to 12 months."