Improving Business in the Wilmington Region
CAPE FEAR COMMUNITY COLLEGE WINS RECOGNITION AS CAMERON MANAGEMENT ALLY OF THE YEAR
WBD Award Cites College's Partnership Role in Workforce Innovation and Economic Leadership

October 24, 2018 (Wilmington, N.C.) – Wilmington Business Development (WBD) has named Cape Fear Community College its Cameron Management Ally of the Year for 2018. The honor was given at the organization's annual meeting on October 17 at the Cape Fear Country Club.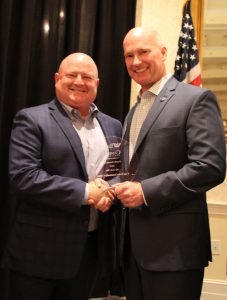 "Today's economy is all about just-in-time skills, and that makes Cape Fear Community College a vital resource for WBD in every aspect of our mission," said CEO Scott Satterfield. "Maximizing Greater Wilmington's human capital is so central to our vision for a prosperous future that this year's Ally of the Year Award goes to an institution that sets the standard when it comes to workforce readiness." Satterfield called the college's staff and faculty "a group of dedicated people who are at our side every day."
The college supports Greater Wilmington's economy and job-creation efforts in numerous ways. "Academic programs, adult education, small business support and vocational training are engrained in our region's workforce assets, entrepreneurial landscape and economic diversity," Satterfield said. CFCC's customized industrial training – offered without charge to companies or their employees – constitutes the most effective economic development incentive the region offers arriving and expanding companies, he added. "It has been pivotal to winning any number of projects over the years," said Satterfield.
Jim Morton, president of CFCC, accepted the award on behalf the institution. "Cape Fear Community College is extremely excited to be the recipient of the Ally of the Year award from WBD," said Morton, who quipped that WBD should stand for "Wilmington's Best Deal." "Our partnership is vital to the economic development of New Hanover and Pender Counties, as well as providing increased employment opportunities for our students," he said.
WBD began awarding the Cameron Management Ally of the Year Award in 2016. Prior recipients have been Four County Electric Membership Cooperative (2016) and Verizon (2017). The annual award is named in honor of Dan and Bruce Cameron, who were principles in Cameron Management and considered to be the founders of what is now Wilmington Business Development. Established in 1956 as the Wilmington Industrial Development /Committee of 100, Wilmington Business Development oversees business recruitment and industrial retention for the City of Wilmington, New Hanover County and Pender County. A private, non-profit organization [501(c)(6)], WBD supports its members, partners and allies through a broad array of technical expertise, leadership resources and value-added business services.  For additional information, visit www.wilmingtonbusinessdevelopment.com