Improving Business in the Wilmington Region
Product Development Strategy Keeps Greater Wilmington Ahead of the Game
The region's enviable success in drawing corporate relocations and expansion means having to double-down on efforts to identify and prepare additional industrial sites, parks and buildings. Given the time and technical complexity in bringing new economic development product to market, today's just-in-time business world looks for faster ramp-up times than ever before.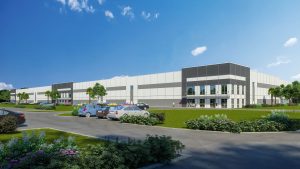 In June, WBD leaders joined Chris Ramm and his colleagues at Ramm Capital Partners in breaking ground on an important new speculative building at Pender Commerce Park. It's the company's second shell building there. Ramm's first building is fully leased with a diverse mix of tenants employing about 70 people. "We should be pouring our slabs by mid-November," Ramm says of the company's latest 144,900-sq.-ft building. Ramm Capital Partners already has 56,000 sq.-ft of its new space leased to a Fortune 500 tenant. "We've got several other conversations going on regarding the rest of the building, which should be ready for occupancy by July 1, 2023," he says.
Ramm's second spec building is one of three buildings under construction at Pender Commerce Park. In April, RL Cold broke ground on its 300,000-sq.-ft cold storage facility, one of five such projects the Atlanta-based company is undertaking around the country.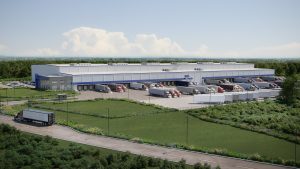 RL Cold's building will be a global supply-chain asset for Southeastern North Carolina's agribusiness industry, facilitating distribution for protein products in high demand around the world. "This building in Wilmington is going to open up day one fully leased," says Josh Lewis, Chief Strategy Officer at RL Cold. "You don't see that happening in a lot of places." The $100 million facility should be complete by fall of next year. At a 40-acre parcel not far away, construction teams are building Amazon's last-mile delivery station. The $50 million facility will employ at least 100 workers, with additional job-creation coming from drivers and contractors supporting the e-retailing giant's operations there.
In the wake of Pender Commerce Park's remarkable success, attention is now turning to the property's 170-acre brownfield site. North Carolina's Golden LEAF, the Rocky Mount foundation created with proceeds from the 1998 tobacco master settlement, awarded Pender County a $500,000 grant to clear the property, which had been previously owned by BASF's Care Chemicals Division.
Pender Commerce Park is the result of a bold vision local leaders had in the mid-2000s to position Pender County for success as new highway links enhanced the region's economy. "Pender Commerce Park is a regional asset for 21st century businesses looking for a competitive edge," says David Piepmeyer, Pender County Commissioner. "We owe a lot to the vision of those leaders who saw the potential of this property 15 years ago and worked hard to make it a reality. We've also benefited from the guidance of partners like WBD, who have brought the technical expertise and contacts necessary to bring major investors," Piepmeyer says.
Other key product development efforts include the Wilmington Trade Center along U.S. Highway 421. The three-building complex will house 425,000 sq.-ft. of Class A industrial space ideal for light manufacturing, distribution and logistics operations. The project is a collaboration between Edgewater Ventures and McKinley Building. Phase one of the project (157k sf) is complete and fully leased. Phase two is well underway, with a completed slab, walls being formed on site, and a projected delivery date of May 2023.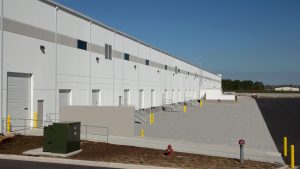 Chris Norvell of Edgewater Ventures commented, "We're excited to continue building at Wilmington Trade Center and capitalize on the momentum in the park with our recent leases to PaperFoam and Coastal Carrier."
No stranger to construction and development in the Wilmington region, McKinley Building Corporation has constructed and developed close to 1 million square feet of industrial facilities along the Highway 421 corridor, including eight (8) buildings within I-140 Business Park, located just south of Wilmington Trade Center.
"We at McKinley are excited to start on Building Two with Chris and his team and be part of bringing to New Hanover County another multi-facility complex that will continue to raise the bar for all southeastern North Carolina for supporting logistics and Port business," said Ken Dull, President of McKinley Building Corporation.
In further development, New York-based developer Treeline has continued its investment into the Wilmington Market with its newest development project at The Yard by Treeline. The company plans to bring a multi-million dollar "modern industrial park" to an 80-acre site at 2830 U.S. Highway 421 N., the former OmniSource site in New Hanover County. The site's development includes rehabilitating an existing 115,000-square-foot industrial facility on the site where multiple leases are already in place, construction of an additional building and enhancement of the facility's amenities. Treeline has tapped Wilmington-based Burgess Corporation as the general contractor for the new industrial park.
A national distributor recently leased 36,000 square feet within the existing building at the site, leaving just 35,000 square feet available for lease. Treeline is also seeing tremendous interest from prospective tenants, including inquiries for built-to-suit options at the to-be-developed portion of the industrial park.
"The explosion of the Wilmington market has driven local, regional, and national companies to establish a hub presence in Wilmington. This site was attractive because of its inherent development potential and the ability to develop a large industrial park with outstanding highway, rail, and water access in the heart of one of North Carolina's booming markets," said Daniel Schor, Chief Business Development Officer at Treeline.
The Yard represents the developer's second commitment to the Wilmington Market in the last 18 months, the first being their completed development of "The Exchange" located only a few short miles away at 3700 & 3720 U.S. Highway 421 N. That portfolio consists of a 66,274 square-foot recently renovated Class A industrial building and a newly constructed 40,000 square-foot industrial property, both fully leased to market rate tenants.
Elsewhere in the region, utility and access upgrades continue at Blue Clay Road Business Park, a 120-acre property owned by New Hanover County. The rail-served site has been extensively surveyed by consultants and engineers as part of Duke Energy's Site Readiness Program, a distinction that helps attract global attention. Water and sewer service, as well as an industrial access road, should be complete next year as interest in the property is strong.
The region's inventory of cold storage space is growing substantially as CIL Capital builds two large facilities at ILM Business Park earmarked for life sciences and biopharmaceutical users. The Indiana-based company is working with Frontier Scientific Solutions, a Wilmington company that will operate the space. The two-phase initiative is also utilizing converted space nearby on 23rd Street. "We are product ready," says Michael Braddock II, Chief Revenue Officer at Frontier Scientific. Workers will soon begin pouring the massive concrete slab for the new construction at ILM, with completion of the 500,000 sq.-ft. building anticipated by December 2023. "There's still site work to be done on the facility," Braddock says. He credits WBD's Cliff Pyron for establishing a local supportive network necessary for the project. "Cliff made sure we were connected to the right groups," Braddock says. "That was a big piece of it."
Last month, New Hanover County Commissioners authorized the acceptance of 50 acres of raw land off Holly Shelter Road in the northern rim of the county. The property is a portion of a larger expanse set to become a transformative industrial product for the region. "We see in the Holly Shelter Road property the same potential we saw more than 15 years ago in what today is Pender Commerce Park: a well-located, infrastructure-rich industrial park that connects growing companies to the global marketplace," WBD CEO Scott Satterfield told commissioners. Engineering and geotechnical specialists are now studying the site and documenting its features.
"North Carolina communities — be they urban, rural or suburban – have to embrace product development proactively and continuously," says Ryan Nance, Director of Economic Development at the NC Electric Cooperatives in Raleigh. Nance works closely with economic development organizations, including WBD, to tap private and public resources for site readiness. "Having a diverse inventory of industry-ready sites and buildings is as fundamental to economic development success as having a diverse workforce, multi-modal transportation networks or flexible incentive programs. It's a key building block for a growing and diversified economic base, and few regions are doing it better than Greater Wilmington," Nance says.