Improving Business in the Wilmington Region
Results for 2017-2018 Include $25 Million Increase in Regional Payroll
"I pass with relief from the tossing sea of Cause and Theory to the firm ground of Result and Fact."
–Winston Churchill
While the best economic development strategies prepare communities for prosperity well into the next generation, their results get measured today. Sound planning and effective execution made 2017-2018 a banner year for WBD and Greater Wilmington's economy.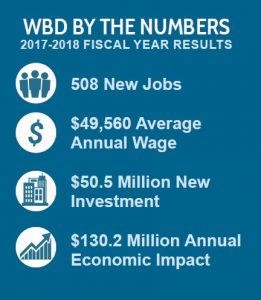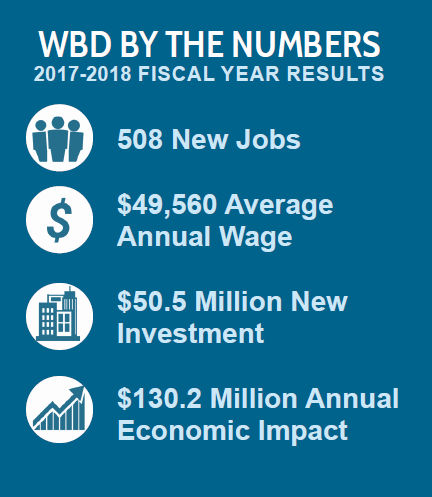 WBD's project portfolio spurred the creation of 508 new jobs in New Hanover and Pender counties at annual wages averaging $49,560. These projects are generating $50.5 million in capital investment, adding significantly to the region's industrial tax-base. The organization's work helped generate an additional $25 million in regional payroll impact.
"We had great success across the region with manufacturing, distribution and consumer foods announcements," says Billy King, WBD's director of business development. "The results of the last year build on the success we've had in prior years with companies in financial services, software and life sciences, all of which add strength and diversification to our economic base."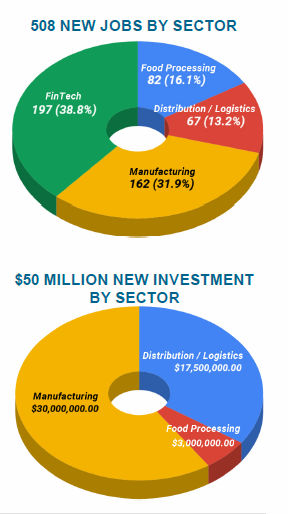 Successful expansions and relocations in Greater Wilmington included the following companies:
Cardinal Foods – A consumer foods company specializing in frozen fruits & vegetables chose Burgaw for their new facility.
Coastal Beverage Company – One of eastern North Carolina's premiere distributors of beer, wine, and non-alcoholic beverages, has selected Pender Commerce Park as its new home for regional distribution space as well as its corporate headquarters.
FedEx Freight – The Less-Than-Truckload unit of the global logistics giant selected a Pender Commerce Park for a new service center.
National Gypsum Company – The Charlotte-based Corporation who manufactures wallboard will re-open its Wilmington production facility.
Edge Works Manufacturing – Maker of G-Code Holsters and accessories, will fill the vacant building in Burgaw once owned by Chloride Systems.
Acme Smoked Fish – Acme's state-of-the-art food processing plant opened in 2014. In the past year, the company added positions to its workforce.
Bluearrow Warehousing & Logistics – A New Jersey based operation will occupy 100,000-sq.-ft. of space at the Cape Fear Industrial Complex in Rocky Point.