Improving Business in the Wilmington Region
STEM Teacher of the Year Focuses on 21st Century Skills
In her role as an educator, Amy Engle, the 2018 recipient of the Corning/WBD Award for STEM Teaching Excellence, doesn't settle for the usual science, technology, engineering and math content. Her approach also incorporates art into STEM learning models. She calls it "STEAM" education.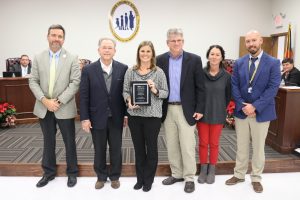 One learning activity, for example, starts with students drawing the human digestive system and then coding the "voice" of a human body. It is an interactive approach for teaching biology, math, art and technology. Including a drawing exercise "gives students that piece of artistic creativity that is part of the 21st century skills-set," Engle says. "Along with teamwork and collaboration, creativity is something they'll need to thrive in today's work environment."
Engle is a media specialist at Topsail Middle School. The award, presented in December by Corning and WBD, is in recognition for innovations she pioneered during her prior tenure at South Topsail Elementary School. "I incorporate a lot of technology into this," she says. The PTO supported her efforts by raising $20,000 for the purchase of new iPads so that Sphero robots could be integrated into the learning environment. Other modules blend history and civics with Sphero to weave technology into humanities and liberal arts.
Engle received her undergraduate education at UNCW and holds a Masters in Library Science from NC Central University. She was nominated for the annual award by Jennifer Angel, her principal at South Topsail Elementary, and the instructional team at Pender County Schools.
"One of the first things we look for is an educator that excites student interest in STEM," says Corning's Bob Trapp, who chairs the selection committee for the award. Letters of support received by the committee from both parents and students offered compelling testimonials to the effectiveness of Engle's teaching model. Students were "talking non-stop about coding," one parent reported. "We knew we were recognizing a deserving educator," Trapp said.