Improving Business in the Wilmington Region
Quality of Life
The Greater Wilmington Region is a blend of urban and rural areas. The distinct personalities of our city and the quality of the region's down-home hospitality draw people here from across the nation. Wilmington, long known for its quiet beaches and busy port, has been discovered in recent years by business and industry, retirees and families.
The Cape Fear Coast is a world of history, sports, island beaches and incredible natural beauty-just waiting to be discovered. Along the Cape Fear Coast you'll find endless enjoyment and adventure, whether you're an avid golfer, a beachcomber, a shopper, a history buff, a naturalist, or all of the above.
The historic port city of Wilmington affords all the unique opportunity to enjoy an exciting area rich in shopping, dining, culture and the arts, while being only minutes away from white sandy beaches.
An architecturally unique historic district highlights the downtown area with a scenic riverfront park overlooking the Battleship North Carolina, one of the top tourist attractions in the state. Numerous museums, galleries, historic sites and plantation homes and gardens lie nearby. Meeting facilities for large and small groups accommodate conferences from ten to thousands.
Wrightsville Beach, 12 miles east of Wilmington, is a year-round island resort. Wide uncrowded beaches, over 30 marinas, and a variety of accommodations are complimented by excellent seafood restaurants, specialty shops and a touch of nightlife.
Carolina Beach and Kure Beach, just south of Wrightsville, offer pier fishing, charter boat cruises, amusements, fine restaurants, festivals and beautiful beaches. Relive the Civil War at historic Fort Fisher, or visit the North Carolina Aquarium shark tank and sea turtle exhibits.
Midway between New York City and Miami, the Cape Fear Coast enjoys four distinct yet mild seasons. The area offers year-round golf on nearly 150 golf courses within 90 minutes of Wilmington. Just over the state line, within an hour's drive, is the Myrtle Beach Coast – a Mecca for golf, shopping and night life.  Our proximity to South Carolina offers additional recreational opportunities, and gives Wilmington Business Development a much larger labor pool from which to draw.
Climate
Average Wilmington temperatures for the last 30 years
| Jan | Feb | Mar | Apr | May | Jun | Jul | Aug | Sep | Oct | Nov | Dec | Annual |
| --- | --- | --- | --- | --- | --- | --- | --- | --- | --- | --- | --- | --- |
| 44.8 | 47.3 | 54.3 | 62.2 | 70.0 | 76.5 | 80.1 | 79.3 | 75.2 | 65.3 | 56.8 | 48.4 | 63.3 |
Average Wilmington rainfall for the last 30 years
| Jan | Feb | Mar | Apr | May | Jun | Jul | Aug | Sep | Oct | Nov | Dec | Annual |
| --- | --- | --- | --- | --- | --- | --- | --- | --- | --- | --- | --- | --- |
| 3.8 | 3.5 | 4.2 | 2.9 | 4.3 | 5.4 | 7.9 | 7.1 | 5.6 | 3.3 | 3.2 | 3.5 | 4.6 |
Source: www.worldclimate.com
Demographics and Statistics
The Greater Wilmington Region is home to over 474,000 people.  For a county and regional snapshot about Population, Taxes, Cost of Living and additional Census Data, please click on the appropriate county. 
For more in depth data on Demographics please click here. Once on the Site Selection page you can choose a property in New Hanover or Pender County and select the appropriate tab to view workforce, demographics, labor force, consumer expenditures, wages, businesses, talent, city & county profiles.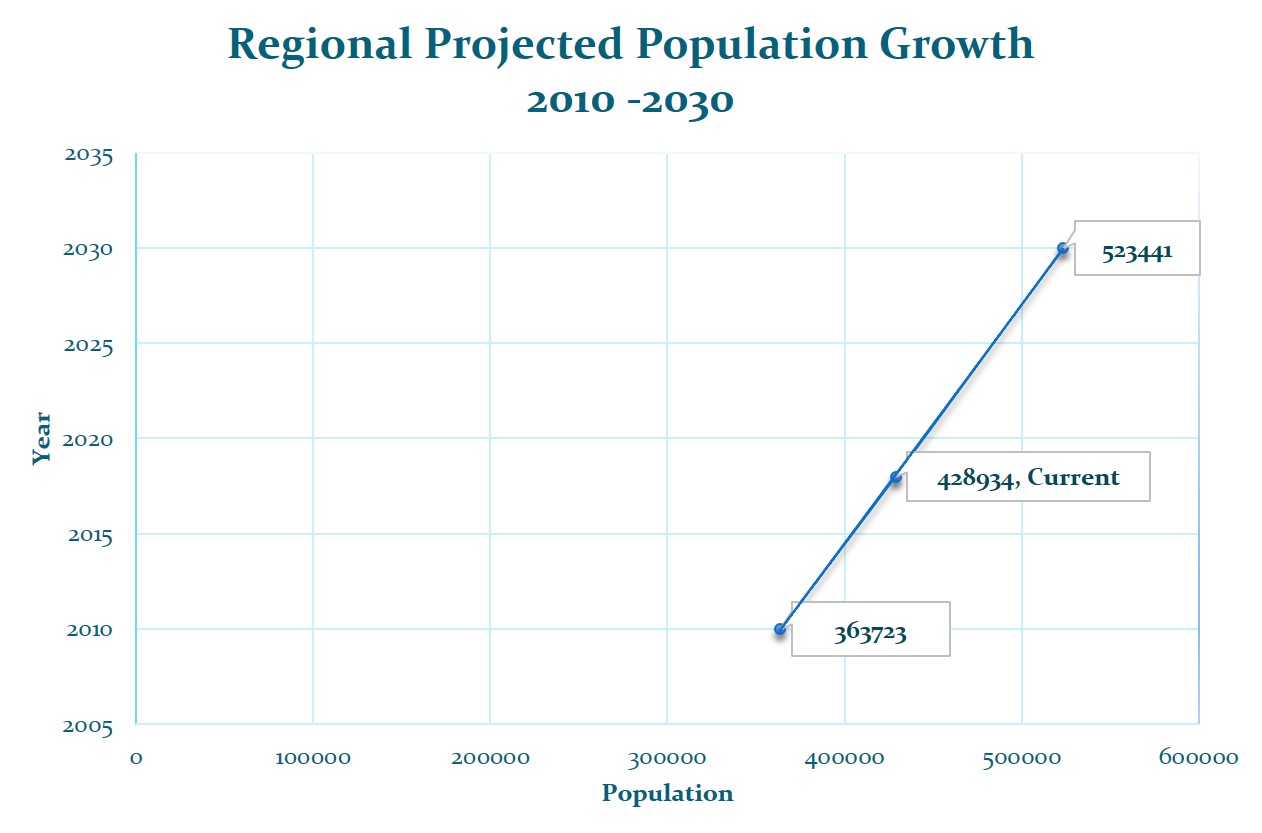 Population Increase Per County by 2030


Housing
Click here for area housing updates provided by Cape Fear Realtors.
Healthcare
The hospitals and services that are part of New Hanover Health Network have long-standing roots in Southeastern North Carolina, offering quality care close to home for generations of families through all stages of life. The network includes three general hospitals, New Hanover Regional Medical Center and NHRMC Orthopedic Hospital in Wilmington and Pender Memorial Hospital in Burgaw. NHRMC is now a part of the Novant Health Family. New Hanover Regional Medical Center contributes over $1 billion annually to the economy of New Hanover County alone and is the county's largest employer with over 7,000 employees, 740 physicians on medical staff and 700 active volunteers. As the ninth largest hospital in the state, NHRMC specializes in many areas of health care including cardiology, neurology, community wellness, and rehabilitation. As a division of the nation's largest hospital corporation, CCFMH holds the distinction of having the longest standing accreditation by the Joint Commission on Accreditation of Health Care Organizations of any hospital in southeast North Carolina. Specialized areas of care at CCFMH include magnetic resonance imaging (MRI) and computerized tomography (CT), interventional neuroradiology, and occupational therapy.
FEATURED SERVICES
Bariatric Surgery      Behavioral Health      Cancer     Children's Health     Emergency     Heart     Home Care     Imaging & Diagnostics
Neuroscience     Orthopedics     Rehabilitation     Spine     Stroke     Trauma     Urgent Care     Women's Health
For further information on New Hanover Regional Medical Center, call (910) 667-7000 , NHRMC Orthopedic Hospital, call (910) 667-8100, Pender Memorial Hospital call (910) 300-4000.